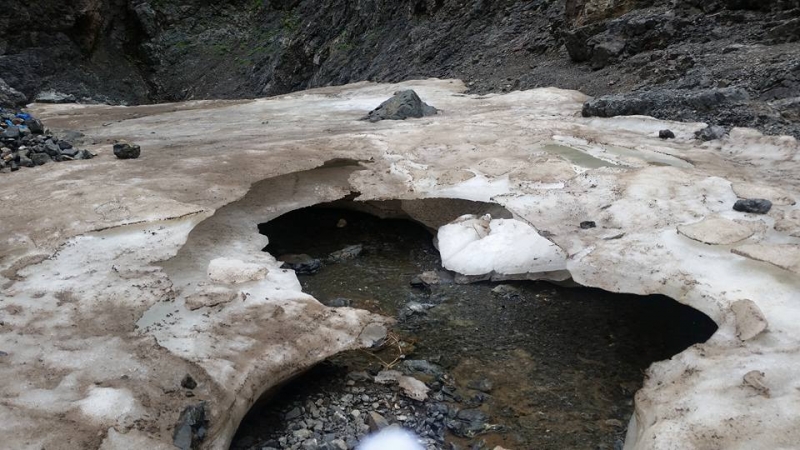 A City Dalanzadgad is a quick gateway to your experience of Eagle Valley. The right at Eastern side of rocky Gobi Gurvan Saikhan mountain will entice you with its majestic canyon and spectacular mountain valleys. There are several easy access mountain valleys in this mountain like Mukhar shivert, Eagle Valley and Dungenee gorge. Just 45 km from the Umnugobi province center, you will find the most astonishing surprise of Gobi desert Yoliin am /Yol – Lammergier/ is named after due to its large habitat of highest flying bird in Mongolia. This deep shaded canyon is well known for its thick layer of ice sheet which survived even the midst of a hot summer period.
The Shadowed depth of Eagle Valley, circle grown juniper and beds of wildflowers would give astonishing fragrance while you follow the narrow Rivera flows softly through the gorge. The highest altitude of this canyon can reach even 200 meters. The gorge is located in the heart of Gobi Gurvan Saikhan mountain. It is nice to have a quick visit to the information center to get an idea of unique gobi flora and fauna. From here, you need to drive another 10 km to reach the park.
Hiking through the canyon would be interesting and continues at least 3 km both sides. Or you can even ride a horse through it. If you come at the beginning of July, you will still have the opportunity to see the ice sheet in the valley of the Gobi desert. It is quite wide in its start and continuously narrows. In some part that doesn't receive sunlight whole year around, only two people can fit. It is common to see bearded vulture high up in the sky. The pride vulture of gobi is considered the highest flying bird in Mongolia. While many of birds will fly at an altitude of 400 meters and bearded vulture can soar up to the sky at 7500 meters. Since they like bone marrow, they learn the technique of how to eat and crack the dead animal bone 7 years of their life.
Eagle Valley is also the home of wild goat, ibex. Whenever you go, you will find easily spot rabbit species, pikas are carrying the herbs into their burrow. If one gives alarming noise, other pikas in the neighborhood would immediately vanish from the site. There are many legends related to gobi interesting places which will give a hint of local people's earlier life.